Turkey Gravy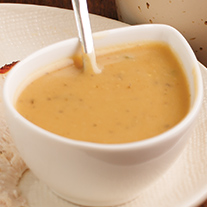 Recipe type:
Holiday Favorites
Roasting pan juices from a cooked turkey (about 1 cup)
1 tablespoon chopped fresh sage
½ teaspoon light brown sugar
1 tablespoon cornstarch
1 cup (or more, if needed) chicken broth, divided
3 ounces plain nonfat Greek yogurt
Salt and pepper
Scrape any browned bits from the bottom of your turkey roasting pan.
Pour all of the cooking liquid and browned turkey bits from the roasting pan into
a tempered glass measuring cup (or other narrow container). This should be at least 1 cup of liquid. If less, add additional chicken stock in step 6.
Place the measuring cup into the freezer, and chill for 15 minutes. (This will allow the fat to separate from the liquid and begin to harden.)
Use a spoon to skim all of the fat that has floated to the top of the measuring cup; discard.
Add the skimmed cooking liquid, chopped sage, brown sugar, and ¾ cup of the chicken broth to a sauce pot over medium-high heat, and bring to a boil. Boil until liquid has reduced by about ⅓.
Whisk the cornstarch into the remaining ¼ cup chicken broth, and then
whisk into the pot. Bring back up to a boil, and let simmer, stirring constantly, for 2 minutes, or until thickened.
Remove from heat, and stir in the Greek yogurt to thicken further before seasoning with salt and pepper to taste.
Serving size:
½ cup
Calories:
100