Lemon & Herb Roasted Chicken Thighs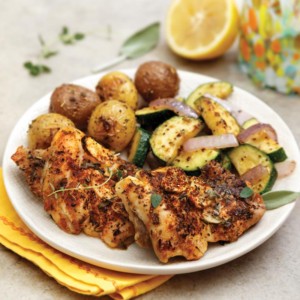 Author:
The Perfect Portion
Recipe type:
Everyday Meals
Makes:
8 Lunch or 4 Dinner portions
8 boneless, skinless chicken thighs (about 2 pounds)
1 tablespoon butter, melted
Juice from 1 lemon
½ teaspoon light brown sugar
4 cloves garlic, sliced
2 tablespoons chopped fresh thyme leaves
2 tablespoons chopped fresh sage
1 teaspoon lemon zest
½ teaspoon Italian seasoning
½ teaspoon salt
½ teaspoon pepper
¼ teaspoon paprika
Preheat the oven to 425°F. Place the chicken thighs in a roasting pan.
In a small bowl, combine the butter, lemon juice, and brown sugar, and then drizzle over the chicken thighs.
Sprinkle the garlic, thyme, sage, lemon zest, Italian seasoning, salt, pepper, and paprika evenly over the chicken thighs.
Bake for 20 minutes, or until a meat thermometer inserted into the thickest piece registers 165°F. Serve immediately.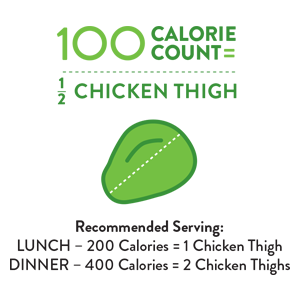 Serving size:
½ chicken thigh
Calories:
100
Recipe by
The Perfect Portion
at https://theperfectportion.com/2016/06/lemon-herb-roasted-chicken-thighs/