Tex Mex Shrimp and Rice Bowl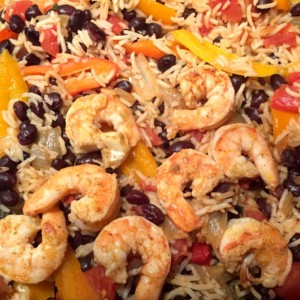 Author:
The Perfect Portion
Recipe type:
Casseroles & One-Pot Meals
2 tablespoons olive oil, divided
2 garlic cloves, chopped
1 pound large shrimp, peeled and de-veined
2 tablespoons fresh lime juice, divided
¼ teaspoon chili powder
¼ teaspoon cumin
½ medium onion, chopped
4-5 mini sweet peppers, chopped
1 can black beans, rinsed and drained
¾ cup low sodium chicken broth
½ cup canned diced tomatoes,
1 package Microwave-Ready Rice, Brown Rice
Heat 1 tablespoon oil in skillet pan over medium heat. Add garlic cloves and cook until lightly browned, about 2 minutes. Add shrimp, and sauté for 3 minutes until turns pink. Place cooked shrimp in a bowl, and season with chili powder, cumin and 1 tablespoon lime juice. Set aside.
In the same pan, heat remaining oil. Add onions and peppers. Saute until softened, about 3 minutes. Add black beans and tomatoes to pan and heat for about 2-3 minutes. Add about ¼ cup broth to keep vegetables in slight liquid state.
While sautéing vegetables, prepare 90 second rice in the microwave. Once completed, add to vegetable mixture in sauté pan and mix through for another 2-3 minutes. Add more broth as needed, yet rice can be a little crispy in the bottom of the pan (the best part!!)
Add shrimp to pan, and season with remaining lime juice and more chili powder and cumin, if desired.
Serving size:
1¾ cup
Calories:
400
Recipe by
The Perfect Portion
at https://theperfectportion.com/2017/03/tex-mex-shrimp-and-rice-bowl/