Authentic enchiladas are time consuming, as they require filling and rolling delicate individual tortillas. We capture the same flavors and textures in a fraction of the time by assembling the tortillas, beef mixture, and cheese as a family-friendly Mexican lasagna. It's hard to beat good food that's also easy to make! Olé!

Enchilada Bake
Author:
The Perfect Portion
Recipe type:
Casseroles & One-Pot Meals
Makes:
12 Lunch or 8 Dinner portions
Ingredients
Nonstick cooking spray
1 pound (96%) extra lean ground beef
1 cup diced yellow onion
½ cup diced green bell pepper
2 teaspoons minced garlic
1 teaspoon chili powder
¾ teaspoon salt
½ teaspoon pepper
1 ½ cups picante sauce (such as Pace®)
1 (15-ounce) can black beans, drained
1 cup frozen corn kernels
2 tomatoes, diced
½ cup sliced black olives
2 tablespoons chopped cilantro
10 (6-inch) soft corn tortillas, halved
1 cup shredded Cheddar Jack cheese
Directions
Preheat the oven to 375°F, and spray a 13 x 9-inch baking dish with nonstick cooking spray. Spray a large sauce pot with nonstick cooking spray, and place over medium-high heat.
Add the ground beef to the pot, and cook until well browned, crumbling the beef as it cooks.
Add the onion, bell pepper, garlic, chili powder, salt, and pepper to the pot, and sauté for 3 minutes, just until onions are translucent.
Add the picante sauce, black beans, corn, diced tomatoes, black olives, and cilantro to the pot. Bring to a simmer, and then remove from the heat.
Build the casserole by layering ½ of the corn tortillas on the bottom of the prepared baking dish. Top the tortillas with ½ of the ground beef mixture. Top the ground beef mixture with ½ of the shredded cheese.
Repeat the last step to create a second layer using the remaining tortillas, ground beef mixture, and cheese.
Cover with aluminum foil, and bake for 20 minutes.
Remove aluminum foil, and bake for an additional 10 minutes, or until bubbly hot.
Let cool for 10 minutes before slicing. For 100 calorie portions, slice casserole into 24 sections by cutting 4 rows by 6 rows.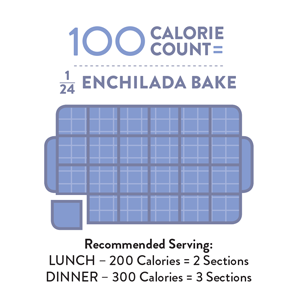 Serving size:
1/24
Calories:
100