Mona's Family Favorites: The winner of all French Toasts! The secret? Better Butter Batter! Mix melted butter right into the batter to make sure that each bite has big butter flavor. The combination of maple syrup, vanilla, and cinnamon makes this French Toast naturally sweet. Pair with fresh berries for a great breakfast.

French Toast
Author:
The Perfect Portion
Makes:
4 breakfast portions
Ingredients
2 large eggs
1 large egg white
½ cup 2% milk
1 tablespoon butter, melted
1 tablespoon sugar
2 teaspoons honey
½ teaspoon ground cinnamon
¼ teaspoon vanilla extract
¼ teaspoon salt
Nonstick cooking spray
8 slices "light" bread (see tip)
Directions
In a wide mixing bowl, whisk together the eggs, egg white, milk, butter, sugar, honey, cinnamon, vanilla extract, and salt.
Spray a large griddle or nonstick skillet with nonstick cooking spray, and place over medium heat.
Working in batches of as many pieces of French Toast as you can fit on the griddle, dip each bread slice into the egg mixture to coat both sides before placing on the hot griddle.
Cook each piece until golden brown, about 3 minutes on each side.
Serve garnished with fresh berries (about 25 calories per ¼ cup) or topped with pure maple syrup (50 calories per tablespoon).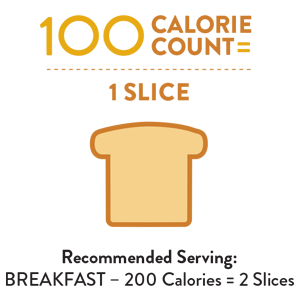 HELPFUL TIP:
Light bread is sold in loaves in the normal bread aisle. It usually contains only 45 calories per slice and far more fiber than ordinary white bread.
Serving size:
1 slice
Calories:
100