Our Lemon Bars are not only 100 calories each, they also outshine other recipes because of their lemon zing. We top the rich, buttery crust with a very generous amount of custard made from both lemon juice and zest. The perfect marriage of sweetness and citrus tang, we're smitten.

Lemon Bars
Author:
The Perfect Portion
Ingredients
Nonstick cooking spray
⅔ cup all-purpose flour
¼ cup butter, softened
1 tablespoon sugar
1 tablespoon cold water

Filling:

3 large eggs
2 large egg whites
1 ¼ cups sugar
3 tablespoons all-purpose flour
¼ cup fresh lemon juice
2 tablespoons lemon zest
⅛ teaspoon salt
Directions
Preheat the oven to 350°F. Spray an 8 x 8-inch baking dish with nonstick cooking spray.
In a mixing bowl, use your hands to combine the ⅔ cup of flour, butter, 1 tablespoon sugar, and water to create a thick dough. Press the dough into the bottom of the prepared baking dish.
Bake the crust for 15 minutes, or until the edges begin to brown, and then let cool for 5 minutes.
In a large mixing bowl, whisk all the filling ingredients until well combined.
Pour the filling over the crust, and bake for 30–35 minutes, or until the top is golden brown and springy to the touch.
Let cool for at least 30 minutes before slicing into 4 rows by 5 rows to create 20 bars.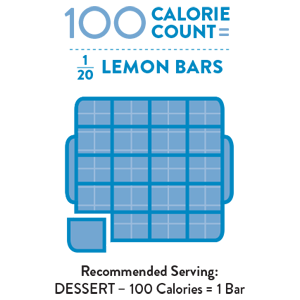 HELPFUL TIP:
Lemon bars are traditionally served garnished with powdered confectioners' sugar sprinkled over the top (as it helps hide any bubbles in the custard). A light sprinkling adds a negligible 1 or 2 calories per serving.
Serving size:
1 bar
Calories:
100