Anson's American Treasures: When I was directing the Steven Spielberg television series Seaquest in Orlando, a few of us decided to take a day trip down to Key West. We spent most of our day trying to hunt down the "best" slice of Key lime pie. This fun memory has made this dessert one of my favorites! By making them into mini pies, my team and I have been able to deliver this tangy treat for only 100 calories.

Key Lime Pie Tarts
Author:
The Perfect Portion
Ingredients
Nonstick cooking spray
¾ cup graham cracker crumbs
1 large egg white, beaten
1 tablespoon butter, melted
1 tablespoon sugar
2 teaspoons cornstarch
¼ cup fat-free evaporated milk
1 (14-ounce) can fat-free sweetened condensed milk
½ cup Key lime juice
3 large egg whites, beaten
1 teaspoon lime zest
Directions
Preheat the oven to 325°F. Spray standard-size muffin pans (enough to make 18 tarts) with nonstick cooking spray.
In a mixing bowl, combine the graham cracker crumbs, 1 egg white, butter, and sugar, folding together to create a crumbly crust.
Press 1 rounded tablespoon of the crust into the bottom of each of the 18 muffin cups. Bake for 8 minutes. Let cool completely.
Whisk the cornstarch into ¼ cup of evaporated milk, and place in a small sauce pot over medium-high heat. Bring to a simmer, and reduce heat to low. Let simmer for 2 minutes. Let cool completely.
In a mixing bowl, whisk together the condensed milk, lime juice, 3 egg whites, lime zest, and the cooled cornstarch mixture to create the filling.
Pour 2 tablespoons of the filling over each of the baked crusts.
Bake for 10–12 minutes, just until the edges of the tarts come away from the pan and bubbles begin to form at the top.
Let cool on a rack for 1 hour. Cover, and refrigerate for at least 1 additional hour before serving.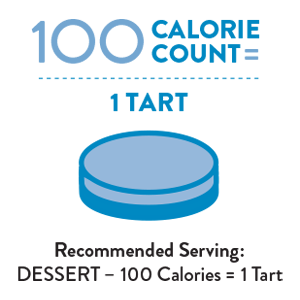 HELPFUL TIP:
Key lime juice can be purchased in a bottle and is usually found in the baking aisle. Regular lime juice can be substituted in a pinch.
Serving size:
1 tart
Calories:
100