Mona's Family Favorites: I love making fresh homemade salad dressings. They really add extra flavor, and everyone always notices and wants the recipe. So, here it is! My vinaigrette of fresh raspberries, honey, rosemary, and a hint of Dijon mustard is a refreshing way to dress up a spinach or mixed greens salad. A great vinaigrette is all about balancing the rich oil with the tangy vinegar. Red wine vinegar enhances the fruity and sweet notes of the raspberries. Plus, puréeing raspberries into the vinaigrette adds just enough sweetness. We hit the nail on the head. You'll be sharing this recipe!

Raspberry Vinaigrette
Author:
The Perfect Portion
Recipe type:
Dressings, Sauces & jams
Makes:
6 Dressing portions
Ingredients
1 cup fresh raspberries
3 tablespoons red wine vinegar
2 teaspoons honey
1 teaspoon Dijon mustard
¼ teaspoon dried rosemary
¼ teaspoon salt
¼ cup extra virgin olive oil
Directions
Add all the ingredients, except the olive oil, to a food processor, and pulse in short bursts for 2 minutes to fully purée the raspberries and create a thick dressing.
Add the olive oil to the food processor, a little at a time, processing on low speed to mix it into the dressing. Serve immediately, or refrigerate until ready to use. Store covered and refrigerated for up to 1 week. Stir or shake before serving.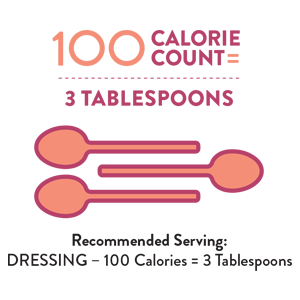 HELPFUL TIP:
Slowly adding the olive oil helps to "emulsify" the dressing by combining the oil with the other ingredients without the water (from the raspberries) and oil separating. If your food processor does not have an opening to drizzle the oil in as it operates, simply transfer to a mixing bowl and whisk the olive oil in by hand.
Serving size:
3 tbsp
Calories:
100